From humble beginnings in the basement of a Copenhagen Pharmacy, we have grown into a global leader in medical dermatology
We have spent 110 years building, sharing and reinvesting in knowledge. LEO Pharma has been operating and manufacturing in the UK and Ireland for over 60 years.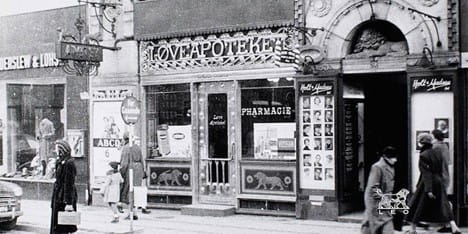 The Københavns Løveapoteks kemiske started off as a pharmacy on the main shopping street in Copenhagen back in 1908
Our heritage, 1908-1929
Two pharmacists, August Kongsted and Anton Petersen (Antons), buy a pharmacy in Copenhagen.
Using the latest advances in industrial processes, they set up pharmaceutical production in the basement under their new shop. They aim to supply the home market with standardised drugs.
Although the pharmacy has been known as 'LEO' since 1620, the two ambitious chemists register the name as a trademark in 1909. They already have a logo: a painting by artist, Anna Rink, inspired by an Assyrian bas-relief at the Louvre. LEO Pharma's logo is finalised and registered in 1911.
They launch their first product, Paraghurt®, in 1909. It remains a healthcare product in LEO Pharma's portfolio until 2003. By 1910, the company has three employees. In 1912, LEO Pharma markets its very first drug, the painkiller Albyl®, which for decades is the most popular painkiller in Denmark. In 1914, the company takes its first step to becoming international with the establishment of its first affiliate, AB LEO Helsingborg in Sweden.
In 1917, LEO Pharma helps establish the Danish pharmaceutical industry by launching Digisolvin LEO®, the first Danish drug to be exported. When Anton Antons dies in a road accident in 1920, work continues under the ownership of August Kongsted. Shortly afterwards, LEO Pharma funds ground-breaking research by August Krogh and H.C. Hagedorn to produce the first batches of insulin in Denmark.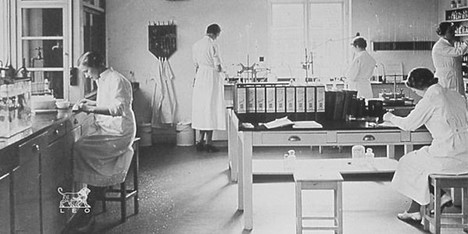 Early biotech, 1930 – 1984
In 1925, insulin production transfers to the independent Nordisk Insulin Foundation, and a few years later LEO Pharma's drug development changes its focus to hormone products.
The company works systematically on isolating hormones from the urine of pregnant women, young men and horses. The knowledge gained puts LEO Pharma in a good position to produce drugs for the next half a century.
Kongsted, the founder of LEO Pharma and key contributor to the Danish medical and pharmaceutical industry, dies in 1939. At the onset of WWII, with Europe in turmoil, Kongsted's son-in-law, Knud Abildgaard, takes the company helm.
Near the end of the war, LEO Pharma becomes the first company outside the UK and the US to produce penicillin, supplying it to leading hospitals and the resistance movement while keeping production secret from the German occupying forces.
By 1945, LEO Pharma employs more than 200 people and has an annual turnover of MDKK 3.7. The LEO price list contains approximately 230 branded products.
Post-war, LEO Pharma launches a succession of drugs to improve the lives of people with atopic dermatitis, impetigo and kidney complaints all over the world. From 1949 to 1959, LEO Pharma moves all production to its current headquarters in Ballerup, Denmark, and begins exporting a growing number of pharmaceutical products.
LEO Pharma started manufacturing products in Ireland in 1958 and has operated in the UK since 1960.
During the course of the following 25 years, nine affiliate offices are established globally, and a number of pharmaceutical drugs that are still on the market today - are launched.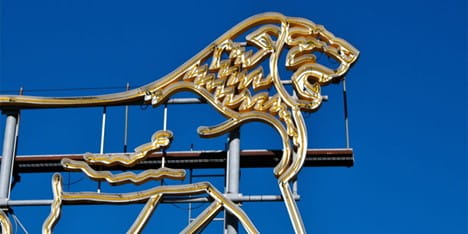 The iconic lion logo photographed in our headquarters in Ballerup, Denmark
Expansion, 1985-2008
The LEO Foundation is established in 1984, providing LEO Pharma with a solid base to bring drugs to market. When Dr. Knud Abildgaard passed away in 1986, the LEO Foundation assumed total control of the company. LEO worldwide now has 2,500 employees and an annual turnover of BDKK 1.14.
In 1991, LEO Pharma launches two products, which become among LEO Pharma's most renowned products.
Success stories in the treatment of psoriasis gain LEO Pharma international recognition – and its psoriasis treatments win prestigious awards from French Medec and Belgian Galein in 1994. The Confederation of Danish Industries chooses LEO Pharma's latest psoriasis products for its 2003 Product Award. LEO products continue to win awards – most recently in Spain and Germany in 2009.
Celebrating its centennial in 2008, LEO Pharma has grown into a truly global company with affiliates in different countries around the world.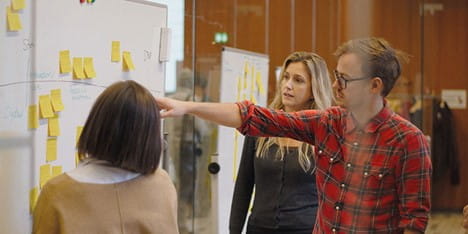 A brainstorming session at the LEO Pharma Innovation in central Copenhagen, Denmark
From 2009 - Present
In 2009, LEO Pharma launches a new global strategy 'Going for Gold - step by step' with the stated ambition of growing the company.
The success criteria are to maintain the independence of LEO Pharma, to secure competitiveness in all we do, and to nurture and develop the organisation.
Despite a record year in 2008, it has never been LEO Pharma's approach to rest on its laurels, and in recognition of the challenges facing the healthcare industry in general, LEO Pharma continues to be ahead. This requires continued financial independence, innovative drugs, and a strong pipeline. It also requires increasing global presence and double-digit sales growth. Above all, it requires the right people with a shared vision, mission and values. Historically, LEO Pharma owes its success over the last 100 years to LEO People with a strong passion for innovation, customer focus, integrity and adaptability; LEO People with the will to expand and the capability to consolidate. With the 'Going for Gold - step by step' strategy, LEO Pharma has set a course, if not for the next 100 years, then at least for the years to come.
LEO Pharma, as part of their 2030 strategy, have secured external investment for the first time to support their growth plans. Nordic Capital bring extensive pharmaceutical experience, a wealth of strategic and operational insight and access to a global network within the life sciences industry.
Today, LEO Pharma is stronger than ever with a growing global presence, a dedicated work force of more than 6,000 specialists and a strong pipeline of pharmaceutical products within dermatology and thrombosis. It is our vision to be the preferred dermatology care partner, improving people's lives around the world.