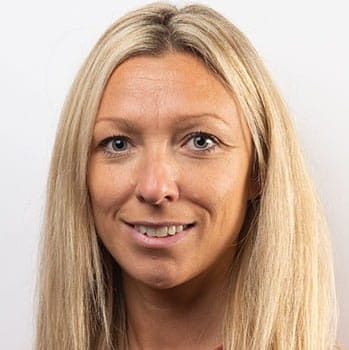 This is Anna Robinson
Anna pioneers as a National Sales Manager with the BioDermatology Team.
"Being accountable and owning it is what drives me every day."
There are lots of innovative ideas and obstacles to overcome whilst launching a new medicine in a competitive environment with high expectations, but that's what makes my job fun and exciting, it challenges my thinking. No two days are the same.
During my 13 years at LEO Pharma, I have developed a diverse skillset, working with support from people across the business, so that we can drive our brands to succeed. As a leader, I have learnt to listen first to ensure that we work and think as one LEO.
I was originally attracted to LEO Pharma because I was interested in exploring a new therapy area, but then the people, the culture and the development opportunities are what have kept me here.
I have been encouraged to explore new opportunities and continually learn. I completed a two-year Institute of Leadership Management course whilst working and around my maternity leave so that I could progress my development journey.
I've explored many different roles and experiences including Sales, Marketing and Regional Business Manager, as well as cross-functional and simplification projects. This has given me a greater depth of understanding of the industry, which has been invaluable in my current role as a National Sales Manager.
A proud memory I have at LEO Pharma to date was winning the Outstanding Management Award at the PF Awards, 2022. This achievement was due to demonstrating my leadership skills and sharing the accomplishments gained through cross-functional working.
The future of dermatology and new medicines coming to market is a thrilling area to work in. We are in a competitive environment which challenges our thinking to try new things whilst always remaining compliant. Working at LEO Pharma has given me the opportunity to look at the business and take autonomy and explore new opportunities.
Collaboration has been and continues to be fundamental to the success of LEO Pharma. Working together with people that want to achieve the same goals and exceed together, and with others who are there to support each other through the good times and the more challenging times.
This year I aim to work closer and share more insights with my global colleagues because together we can learn so much from each other cultures and ways of working.
The best part of my job is being in the field with my team selling to Health Care Professionals.
MAT-67050 July 2023
To me pioneering means being involved in new ideas and methods to achieve great results together
Anna Robinson
BioDermatology National Sales Manager
UK and Ireland