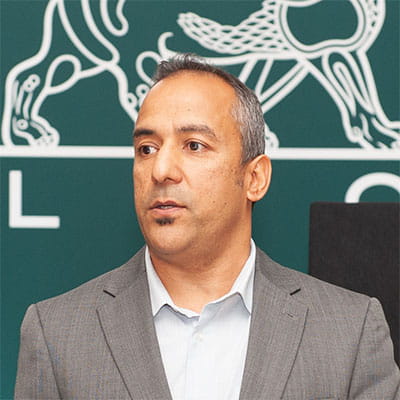 This is Faraz Akbar
Faraz pioneers as a Medical Science Liaison (MSL) Officer with Medical Affairs.
"LEO Pharma is small enough to be heard but it's big enough that you make a difference. "
One of the first people I ever met in the industry was a LEO Pharma representative, they spoke so highly about the company culture and the disease area, it left a lasting impression on me. When I later found out that a friend had joined LEO Pharma, I jokingly asked, "Are there any jobs going?" and there was! 19 years later, the rest is history...
It is a company where people come and stay because of the culture. You are not just another employee; people know each other and recognise and appreciate what you do.
I have been an MSL for the past 11 years and not one year has been the same. There is a constantly changing landscape with new products and data, innovative clinical studies, and disease area and patient insight. I have had the scope to grow through different and varied projects in the UK and Ireland and with the global team.
I enjoy being the external face of LEO. The company has a fantastic heritage and reputation in the field of dermatology. The best part of my job is having face-to-face meetings with healthcare professionals (HCPs), providing them with in-depth knowledge and giving them confidence in their understanding of the data.
I have also really appreciated working with patients and with patient organisations so that we can gain real insights into these conditions and embed that in what we do.
We are at the forefront, working with HCPs to advance the standard for people living with skin conditions. The disease area is fantastic, you can visibly see the tangible difference treatment can make, both to the patient's skin and also the impact this can have on their quality of life.
I would be fascinated to know what the Danish pharmacist founders of this company, August Kongsted and Anton Petersen, think of the journey that LEO Pharma has been on over the past 114 years, how many people have been helped and the difference that has made.
MAT-67050 July 2023
To me pioneering at LEO Pharma means pulling on our knowledge and heritage to lead the way in medical dermatology.


Faraz Akbar
Medical Science Liaison (MSL) Officer
Medical Affairs, UK and Ireland